By Prodyut Das
Zumba Workout
Zumba workout isn't a dance class. It is a fitness class. If someone was really that concerned in making sure the steps where perfect they would be taking ballet. Zumba is an easy to follow fitness program where you literally follow the steps move for move. As Long as you keep moving it will provide results. There is no right or wrong way to do Zumba. If instructors stopped between each song to teach all the steps it would defeat the purpose of having a cardio dance program.
Popular in homes and gyms around the world for its focus on fun, high energy fitness, a Zumba workout burns calories and helps you to lose weight.  The brain child of fitness instructor Alberto Perez in Colombia during the 1990s, the Zumba fitness dance program fuses Latin music with contemporary dance beats to make exercise fun.
History of Zumba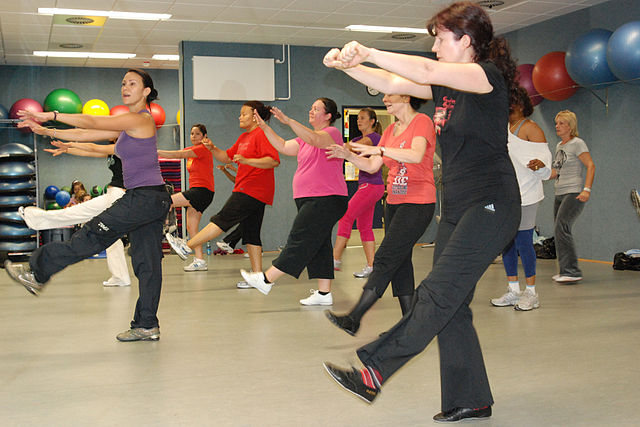 Zumba was born from an accident. Colombia-born Alberto "Beto" Perez was teaching an aerobics class in his native Cali in 1986 and discovered he had forgotten his usual music. So he dug through his bag of tapes and grabbed a mix of salsa and meringue music he personally liked to dance to.
Zumba's success grew steadily after Perez moved first to Bogota, Colombia and later to Miami. In 1999, Perlman and entrepreneur Alberto Aghion approached Perez about taking Zumba to the mass market. The three began selling DVDs via infomercial in 2002 and were very successful, but enthusiasts demanded more.
In 2005, Perez, Perlman, and Aghion developed an educational division, wrote a training manual, and began offering Zumba workshops to those interested in teaching.
Today, there are an estimated 4 million Zumba enthusiasts and 25,000 instructors in 40 countries, according to Perlman. And Zumba executives continue to feed the frenzy. The brand also offers music and choreography; a clothing line; Zumba Gold classes, geared to seniors; Zumba Toning, a sculpting class using weighted sticks that sound like maracas; and ZumbAtomic, a program for kids aged 5 to 12.
How many calories are burned in a Zumba workout?
Workouts can vary in intensity, and calorie burn from a Zumba session depends on an individual's weight, fitness level and muscle composition. During an hour long session you can expect to burn anywhere from 300 to 600 calories depending on the intensity of your Zumba class.
What are the benefits of a Zumba workout?
Zumba keeps motivation peaked with a catchy soundtrack, plus you get the opportunity to try the moves you've secretly always wanted to have a go at!

Music is naturally the main ingredient to Zumba classes and helps to move the workout from one toning, strengthening or cardio move to another, targeting every major muscle group in the body.

The routines feature interval training sessions which are currently recognised as one of the best ways to burn fat.

Weight Loss Success with Zumba
Lose weight with Zumba workout for those who don't like Gym
Dance classes are designed to be fun and high-energy, making Zumba an enjoyable way to lose weight and improve fitness. Anyone can do Zumba - even if you are new to exercise.
There is no specialist equipment to buy and most gyms and fitness studios in the UK now offer Zumba classes. DVDs are available for those who feel more comfortable exercising in their own homes, making a Zumba for weight loss easy in the privacy of your living room!
Fun with Zumba
 

The goal of the Zumba dance instructors is to make people want to work out, and to love working out. Fun and easy to do, Zumba is the type of fitness exercise you'll want to do every day and enjoy doing it.  By the end of the class, you'll wish you started years ago!

It's different. You probably never thought you'd be exercising to this type of music.

It's effective. Zumba is an aerobic workout, great for overall fitness.

It's enjoyable. A Zumba class will make you stick with the program until you get results.
The Zumba is a blend of the following dance styles: 
Book your Zumba Class today Here
Salsa

Meringue

Mambo

Flamenco

Cha-cha-cha

Samba

Belly dancing

Bhangra

Hip-hop

Tango
Similar Pages for weight loss
Return from Zumba Workout to Home Page
Return from Zumba Workout to Weight loss Exercises
Jan 05, 20 06:55 PM

Common Physical Therapy Abbreviations used in documentation

May 26, 17 11:36 AM

Pes anserine bursitis (tendinitis) involves inflammation of the bursa at the insertion of the pes anserine tendons on the medial proximal tibia.

May 22, 17 12:02 PM

Williams flexion exercises focus on placing the lumbar spine in a flexed position to reduce excessive lumbar lordotic stresses.

Rating: 4.4

Votes: 252