Physiotherapy in Delhi
Gain fitness and health with Physiotherapy in Delhi by Prodyut Das and his team. Here are 3 excellent physiotherapy services we offer-
1-Physiotherapy Packages with Upto 20% discount at NIMT  hospital, Greater Noida
2-Corporate Physiotherapy
3-Physiotherapy at home services
1- Upto 20% discount on Physiotherapy in Greater Noida
Here at NIMT hospital, physiotherapy is our core service – you can be confident that we've got the expertise to help you with any type of muscle, bone or nerve problem. Whether it's a mild headache, an arm recently out of plaster, recurring or consistent back pain, a surgical reconstruction on a ligament in your knee, or an ankle that you twisted this morning…..we can help you.

OPD PACKAGES-
1) Neuro rehab package 
2) Ortho rehab package 
3) Paraplegic rehab package 
4) Quadriplegic rehab package 
5) TKR/THR package 
6) Prenatal exercise program 
7) Postnatal exercise program 
8) Pain package 
9) Weight reduction package 
10) Sports injury package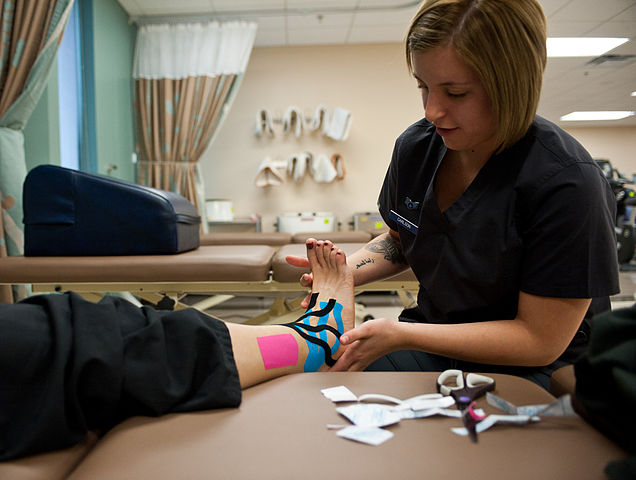 2- Corporate Physiotherapy in Delhi & NCR
Our Corporate physiotherapy provides on-site physiotherapy services within medium to large businesses across Delhi and NCR.  

All employers have a duty of care to protect the health and safety of their employees, however lack of expertise in injury management and in individual workstation design can allow costly mistakes to be made resulting in increased sickness absence and decreased productivity.  We pride ourselves on having addressed this area of corporate health through a range of flexible and customized options. Our healthcare delivery system is specially designed to suit employee needs.
INJURY IDENTIFICATIONS:
Visit the work place environment to assess the different work stations and identify potential injury concerns.

Rate injury identified areas and plan strategies for injury prevention.

Appropriate lectures/workshops for workers/ team leaders to inform of injury risks.

Report detailing potential injury risks and preventative measures taken.
EARLY INJURY DETECTION:
Create platform for early injury reporting and appropriate management.

Physiotherapy consultation for assessment/ advice/ rehabilitation.

Creation of home/ work programme for self-management and continuity in the work place.

Initiate onward referral for other medical services if required.
INJURY PREVENTION:
Development of worker specific strengthening/ fitness programmes.

Benefits of stretching

Implementation of a company specific pre-shift stretch program

Office ergonomics
INJURY REHABILITATION:
Deskercise

Exercising with bands

Exercising with a fitness ball

Posture and body alignment

Improving your strength
The following are many of the classes we currently provide. Please feel free to inquire about any other programs that would meet your company's individual needs.
1) One Time Presentations (Ergonomics & Muscular Skeletal Disorder at workplace)

2) Periodic Presentations and workshops (Ergonomics)

3) In Company Physiotherapy Setup.
3- Home Physiotherapy in Delhi & NCR services
Our Physiotherapists are experts in the assessing and treating of musculo-skeletal pain and neurological disorders and can assist seniors, athletes, auto injury victims, injured workers and those recovering from child birth and surgery. Physiotherapy treatments used include joint and soft tissue mobilization and manipulation, exercise advice and programme prescription, taping, bio mechanical evaluation, clinical Pilates and electrotherapy.

Who needs Our Home Physiotherapy  Service?
Those who wish to:

Reduce pain
Increase strength
Improve flexibility
Return to full function
Regain an active lifestyle
Maintain independence
Testimonials
Pawan Nautiyal was diagnosed with Tuberculous Spondylitis with Myelitis in 2003. He lost power of bilateral lower limbs and bladder and bowel control. He was operated in April 2009 in AIIMS for the same. Gradually with medication and regular Physiotherapy in Delhi by Prodyut Das. Now Pawan has gain sufficient power and balance. He now walks for 20-30 mins alone with aid of a stick and is completely independent in all activities of daily living.

Azad had road traffic accident in 2009 (Fracture L1-2 vertebra with cord compression). His both legs were paralyzed and he lost bladder and bowel control. He was operated and underwent physiotherapy for 2 years. Now Thanks to Prodyut Das he is walking again.
Return from Physiotherapy in Delhi to home page
Return from Physiotherapy in Delhi to Orthopedic Physical Therapy
May 26, 17 11:36 AM

Pes anserine bursitis (tendinitis) involves inflammation of the bursa at the insertion of the pes anserine tendons on the medial proximal tibia.

May 22, 17 12:02 PM

Williams flexion exercises focus on placing the lumbar spine in a flexed position to reduce excessive lumbar lordotic stresses.

May 07, 17 09:09 AM

Tendinosis is intratendinous atrophy and degeneration with a relative absence of inflammation; a palpable nodule may be present over tendon

Rating: 4.4

Votes: 252