Physical Therapy News
The Latest and Best Free Collection of Physical Therapy News and Information Gathered From All Over the World.
The Physical Therapy news forum keeps you updated to the latest events and research in the field of physical therapy and rehabilitation. Includes news on recovering from illness or injury, physiotherapy, occupational therapy, speech pathology and much more.

The physical therapy and rehabilitation news forum is open for all the physical therapists of the globe to share their knowledge. You can add information (with reference), comment on the news and rate them.
Latest Top News From The World Of Physical Therapy
Do you have any great news about Physical Therapy and Rehabilitation? Share it and let the knowledge spread!
What Other Visitors Have Said
Click below to see contributions from other visitors to this page...

Latest News
Read the latest news from APTA, including PT in Motion News articles, press releases, and blog posts. News is about keeping people up-to-date with what is going on in the world and providing news from diverse perspectives. But this goal is meaningless unless we get the reading experience right. For too many people, reading the news on their mobile devices can be slow and clunky, forcing them to abandon a site.
OT vs PT
Occupational therapy and physical therapy seem to be the same thing, and people often get confused with their meanings. However, there are some very important factors that make a big difference between the two professions.

Occupational Therapy Definition
Occupational Therapy, is focused on giving a patient a proper understanding of their abilities, and the way they can manage their health in a better manner. This is a very common therapy for those suffering from a physical injury that is not allowing them to work independently, or normally.
OT will be versed in the deeper aspects of human skills that involve his or her ability to cope with the present situation, and how they can achieve a balance in between. They will also study the home and emotional environment, and give their support in these fields.
Physical Therapy Definition
Physical therapy is a health care profession that uses physical agents: exercise and massage and other modalities in treatment of pain, disease, or injury. Physical Therapy is concerned with promotion of health, with prevention of physical disabilities, with evaluation and rehabilitation of persons disabled by pain, disease, or injury, and with treatment by physical therapeutic measures.

PT will focus on the injury, and on trying to prevent further injuries. The therapist is required to have a vast knowledge of the anatomy and musculoskeletal system of the body to be able to do his job properly.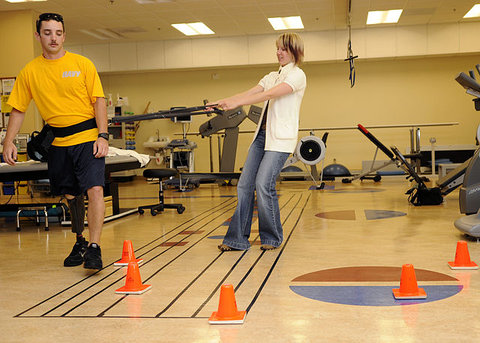 Return from Physical Therapy News to Home Page
Return from Physiotherapy News to Contact Us

Aug 28, 16 03:43 AM

Post femoral neck fracture physiotherapy aims to improve strength and range of motion of the involved extremity. Establish independent gait without assistive device and minimize complications.

Aug 07, 16 01:00 PM

Wobble board exercises has demonstrated to be effective in preventing ankle sprains by assisting in strengthening the muscles and ligaments, influencing reaction times, and restoring proprioception.

Aug 04, 16 03:34 AM

Pain to the undersurface of the patella is variously called anterior knee pain, chondromalacia patellae, patella malalignment syndrome and patellofemoral pain syndrome (PFPS).
For Home Visit Services  in Delhi/NCR Call (+919910883909)


You like this? Then do share

---

---

---

Rating: 4.4

Votes: 252